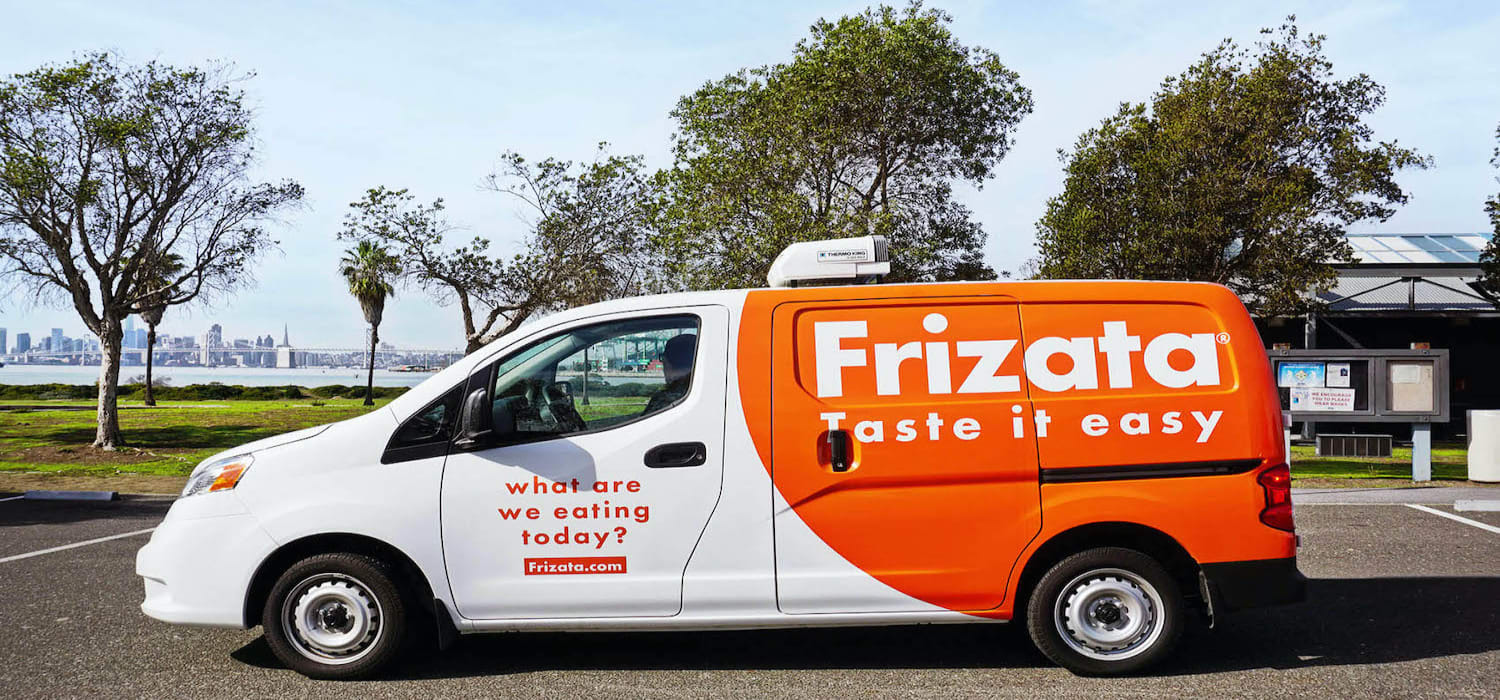 SAN FRANCISCO —
Frizata, a direct-to-consumer frozen food company, is pleased to announce the U.S. launch of its innovative, convenient, high-quality frozen products for home delivery in the greater San Francisco Bay Area. Frizata offers nearly 50 products, ranging from frozen appetizers, individual pizzas and flash frozen fruits and veggies picked at the peak of freshness, to a proprietary line of meatless items, including Friburger, FriNuggets, FriBites and FriChick'n Empanadas. All Frizata products are created without the use of preservatives or artificial ingredients.
Frizata's offerings are designed for flexitarians—those who are looking to cut down on, but not completely eliminate—meat from their diets. Frizata's breakfast, lunch, dinner and snack preparations can be enjoyed on their own or used as "meal assisters" to save time on meal prep. Products are available exclusively online at www.frizata.com.
Frizata's mission is to change the experience of everyday food, merging innovation and technology to give consumers the simplicity and balance they need, while creating a more sustainable food system.
Key Points of DIfferentiation
Innovation: Frizata develops and co-creates unique products using consumer insights in real time.
Convenience: Unlike prepared food services that dictate what you cook, Frizata delivers dozens of easy-to-prepare building blocks that allow customers to quickly create and customize their desired meal.
Process control: Frizata is solely responsible for its R&D and production, and customer deliveries are made in Frizata's own temperature-controlled vans.
Low waste: Orders are delivered without ice packs or unnecessary waste, including the use of cardboard boxes rather than styrofoam. Frizata is also plastic neutral certified with rePurpose Global, which calculates the plastic equivalent of Frizata's annual footprint and uses the amount to finance innovative recycling and waste management programs in Latin America.
Frizata's Products
At launch, the new Bay Area foodtech company will offer nearly 50 products: Signature menu items are Frizata's Cheese Stuffed FriBurger (a meatless beef patty stuffed with mozzarella), FriNuggets, Spanish Omelette, Empanadas in four flavors (Corn and Cheese, Spinach and Cheese, FriBe'f and FriChick'n) and Spinach and Cheese Bites. Other products include oil-free potato wedges and fries, alt-protein burgers, veggie patties, veggie burgers, cheddar cheese bites, healthy pizza and pre-cut fruits and vegetables. Items can be mixed and matched and ready to eat from freezer to stovetop, oven or air fryer in less than 20 minutes. More products are being developed and will be available in the coming months in the Bay Area.
Due to the company's full-stack DTC model, Frizata can pass savings directly to the customer while producing high-quality products. For example, Frizata's meatless Friburger patty costs 25% less than the average meat-free supermarket burger. Products are also delivered in family-friendly packaging to increase value and reduce waste. Frizata's prices range from $8.49 to $22.99 for quantities of 2.2 lbs, 3.3 lbs. or 4.95 lbs.
Inaugural delivery zones include San Francisco, Berkeley, Oakland, Albany, San Jose and the Peninsula, with more Bay Area locations to come. Delivery fees are $8.99 per order, with select days for each delivery zone around the Bay Area. There is no minimum order, and free delivery for first-time orders and all orders of $125 or more.
Frizata's Founders
Created by two Endeavor entrepreneurs, Adolfo Rouillon and José Robledo, Frizata was born out of a deep understanding of both the tech and frozen food industries. Business partners for over 25 years, Rouillon and Robledo previously founded the successful software development company Amtec (acquired by Neoris) and Congelados del Sur, a frozen foods development company for large food businesses and supermarket chains.
"We are building a global platform to bring a new generation of innovative foods to millions of consumers eager to rethink the way they eat every day, with a simple experience, affordable prices and caring for the environment. Our purpose is to create better food for more people; it's that simple," said Adolfo Rouillon, co-founder & CEO of Frizata.
High-res food and founder photography linked here.
Short video about Frizata linked here.
###
About
Frizata is a direct-to-consumer frozen food platform delivering convenience, affordability, quality, and sustainability to its customers. Since launching in 2019, Frizata operates in five cities in Argentina, in Santiago de Chile (CH) and San Pablo (BR). With a portfolio of over 70 products made without preservatives or artificial ingredients, the company is targeted at flexitarians--those who are looking to cut down on, but not completely eliminate, meat from their diets--and has developed a wide meatless product line. Created by two Argentine entrepreneurs from the Endeavor network, Adolfo Rouillon and José Robledo, Frizata was born out of a deep understanding of both the tech and frozen food industries and a desire to fix inefficiencies in the food supply chain.

As a Digitally Native Vertical Brand, Frizata is fully responsible for the development, production, e-commerce and distribution of its frozen food products. This allows the company to "co-create" items with consumers by aggregating and analyzing consumption habits and feedback and using this data to quickly innovate and expand the product line. By cutting out intermediaries, Frizata is able to invest in high-quality ingredients while passing savings along to the consumer. In November 2021, Frizata debuted in the U.S. in the San Francisco Bay Area, with its sights set on global expansion beginning with Singapore, London, Madrid, and Mexico City. The vision of the company is to expand to 200 main cities across the globe during the next decade.
Media gallery